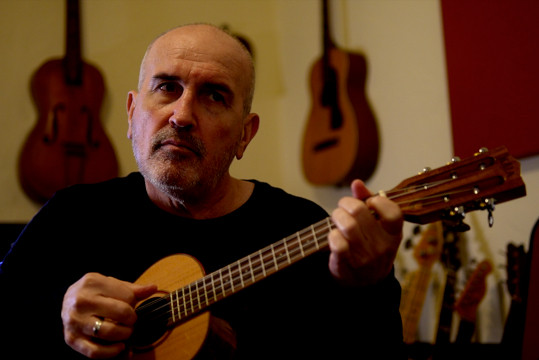 Chris Falson
Chris Falson is an Australian songwriter, record producer, multi-instrumentalist, recording artist and mix engineer. His songs and compositions have featured in over 200 network TV shows including,  Cover Me, Castle, October Road, Without a Trace, CSI, CSI NY, CSI Miami, NCIS, Las Vegas, Brothers and Sisters, Men in Trees, Tavis Smiley, Bloodwork, Yes Dear, King of Queens, Rescue Me, Criminal Minds, Numbers,  Ghost Whisperer, Ed, One Tree Hill, Late Late Show, 60 Minutes, The Early Show, Punk'd, Queer Eye and, the award winning documentary "The Rest".  His film production credits include Blast 23, Win a Date with Tad Hamilton, A Buddy Story, Diamonds, Beautiful People, Clean Start, The Release, Cats and Dogs 2 and Immortals.
With 14 solo albums, his performance highlight-reel includes shows at The Stravinsky Auditorium Montreaux,  The LA Coliseum, Shea Stadium, Wembley Stadium, The Fools Club in Amriswil, a bell tower in Bürglen and the World Youth Day concert in Denver to celebrate Pope John Paul's visit to the US.
Continuing the legacy of his father Ron Falson, a noted orchestrator and jazz musician who toured with Frank Sinatra, Mel Torme, Sammy Davis Jn'r and Stan Kenton, Chris is also the father of  Sam Sparro and James Bowen (aka Droid Bishop).
Favorite PSP plug-ins: All of them!
I just think that PSP plug-ins sound better or, are more musical than anything else in my plug-in locker.
My everyday 'go to' is PSP InfiniStrip Wind. It is such a great sounding channel strip to either record into (no latency issues) or as a sound design tool later on in the mix. 
PSP old Timer ME is the first compressor I go for. On everything. PSP oldTimer Multi Band for bus-glue (especially for Guitars or BV's or when making stems).  PSP NobleQ on a mix bus along with PSP Master Q2, PSP MasterComp and PSP Xenon. I could go on and on!!!!
And the PSP Saturator wow! I'm working primarily in the box. On some projects from start to finish and this little plugin has that old console to tape sound. I am literally throwing it on every track. Even the default setting sounds great.
More about Chris:
www.instagram.com/thefalsonator