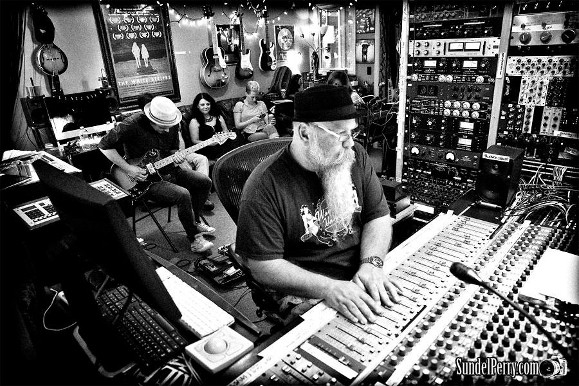 Vance Powell
Vance Powell is a four time Grammy award winning producer, engineer and mixer, whose impressive list of credits includes The Raconteurs, The Dead Weather, The White Stripes, Arctic Monkeys, Wolfmother, Seasick Steve, Black Prairie, Tinariwen, Jeff The Brotherhood, and Chris Stapleton, among many others.
Powell has been a long time collaborator of Jack White, working extensively with his groups including The Raconteurs, The White Stripes, and The Dead Weather, as well as many of White's production jobs such as Wanda Jackson's "The Party Ain't Over," as well as Jack White and Alicia Keys' production of "Another Way To Die" from the James Bond film Quantum of Solace. In 2009 The Raconeteur's Consolers of the Lonely won the Grammy for Best Engineered Album (Non-Classical) and Vance would receive further nominations for his work with White in 2013 ("Album Of The Year" for Jack White Blunderbuss) and 2014 ("Best Alternative Music Album" and "Best Rock Song" for Jack White Lazaretto).
In 2015, Stapleton's album "Traveller", engineered and mixed by Powell, won three Country Music Association Awards (CMAs) including "Album of The Year", and received Grammy nominations for "Album Of The Year", "Best Country Song" and won "Best Country Album" and "Best Country Solo Performance", as well as recently becoming an RIAA certified Platinum Album. Powell continues to work closely with Stapleton, both in the studio as well as being frequently tapped to oversee live recordings. Stapleton's second studio album From A Room: Volume 1 (Mercury/UMG Nashville) was once again engineered and mixed by Powell.
Powell currently works out of his private Sputnik Sound studio, located in the Berry Hill area of Nashville. Recently he produced and mixed the new album Graveyard Whistling (ATO) for alternative country band Old 97's (#1 Americana Album), produced, engineered and mixed Tyler Bryant & The Shakedown's new album The Wayside, and mixed albums for Melissa Ethridge and Robert Randolph & The Family Band. In 2017 he notched another Grammy nomination for Album of The Year for his engineering work on Beyonce's Lemonade while seeing success at Triple A Radio for his mix of The Revivalist's "Wish I Knew You".
Favorite PSP plug-ins:
"I've been using PSP plug-ins for so long now I don't know what I would do without them! PSP VintageWarmer2, PSP SpringBox, PSP MixPressor2 and the PSP StereoPack are somehow in almost every mix or record I make. Keep up the great work PSP!"
"If I'm at a studio that has no metering, PSP TripleMeter saves my life!"
"I love the PSP 2445 EMT! We have a real one as a doorstop here at the studio, and I've always wanted to hear it, and now I can!"
More about Vance:
www.sputniksound.com
www.tapeop.com/interviews/82/vance-powell-full
www.soundonsound.com/people/vance-powell-recording-rock