PSP B-Scanner is an emulation of the analog scanner-based effect available in the most sought-after models of vintage Hammond® tonewheel organs (such as B-3, C-3, A-100 and others).
Although PSP B-Scanner has been meticulously designed to recreate the classic sound of the Hammond® B-3 Vibrato and Chorus, it offers a wide range of options allowing you to maximize the potential of this unique effect.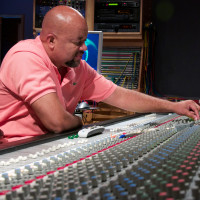 I like the PSP B-Scanner. I downloaded and installed the PSP B-Scanner because as a long time user of PSPAudioware's plugins I'm sure I would not be disappointed and I was right. This plugin is capable of emulating the vibrato and Chorus effect of the Hammond B3 organ and so much more. I used it on a Pop/Electronic track I was working on and it made the main synth feel larger than life giving it height, width and movement in the mix.
PC
VST3
Windows 32-bit or 64-bit (XP Service Pack 2, Vista, 7, 8 or 10)

VST3 compatible application
VST
Windows 32-bit or 64-bit (XP Service Pack 2, Vista, 7, 8 or 10)

VST 2.4 compatible application
RTAS
Windows 32-bit or 64-bit (XP Service Pack 2, Vista or 7)

ProTools LE 8.0.0 or ProTools TDM 8.0.0 (or later)
AAX
Windows 32-bit or 64-bit (XP Service Pack 2, Vista or 7 or 8 or 10)

Pro Tools 10 or Pro Tools 12 or Pro Tools 12 (or later)
Mac (intel)
AudioUnit
Mac OSX 10.8 - 10.11 or later

32 or 64-bit host application capable of running AudioUnit plug-ins with Cocoa view
VST
Mac OSX 10.8 - 10.11 or later

32 or 64-bit VST 2.4 compatible host application
VST3
Mac OSX 10.6 - 10.11 or later

32 or 64-bit VST 2.4 compatible host application
RTAS
Mac OSX 10.8 - 10.11 or later

ProTools LE 8.0.0 or ProTools TDM 8.0.0 (or later)
AAX
Mac OSX 10.8 - 10.11 or later

Pro Tools 11,12 or later