PSP auralComp
Immersive made with a smile!
PSP auralComp, which we've affectionately nicknamed "Avocado", is a multi-channel compressor and limiter designed from the bottom up to be powerful, simple, and flexible in all kinds of surround and immersive audio applications.
Powerful: PSP auralComp is the first in a series of plug-ins created in partnership with acclaimed immersive audio pioneer Ronald Prent, whose credits include Depeche Mode, Helloween, Manowar, Iron Maiden, Rammstein, Def Leppard, Richie Hawtin, Celine Dion, Simple Minds, and many others. Ronald has helped to design and tune analog multi-channel dynamics processors and mixing / mastering consoles, and has brought his expertise to PSP for use in PSP auralComp.
Simple: PSP auralComp presents up to 16 channels of compression per multi-channel input bus, each one with familiar controls and metering. If you've got multiple channels that require the same settings, just group them and adjust them all at once, and PSP auralComp will do the rest.
Flexible: PSP auralComp has a variety of Quick Select options that allow you to choose many different types of immersive audio configurations, from basic 5.1 through many more complex layouts up to 9.1.6, so you can set up your system with one click. You can also set PSP auralComp to Mid-Side processing for stereo tracks. There's even an output stage brick wall limiter for final peak control.
We think PSP auralComp is the best multi-channel compressor and limiter plug-in ever made. After you've had a chance to use it on your most demanding immersive audio projects, we think you'll agree.
Key features:
Selectable speaker configurations, ranging from stereo to M-S to 9.1.6.

Eight individual side chain submixes with advanced side chain filtering.

High-quality opto compressor at the core of the plug-in.

Output brick wall limiter.

Compact yet straightforward graphical user interface.

Advanced linking mechanism.
PSP auralComp is a game-changer for my music production. It gives me the flexibility and control to shape the dynamics and tone of my tracks with ease and precision. Whether I need to add some warmth, clarity or punch to my instrument busses or surround mixes, PSP auralComp delivers amazing results with its intuitive and user-friendly GUI interface. It's not just a compressor, it's an inspiration tool.

PSP has transformed my ideas into an incredible compressor and limiter, delivering an exceptionally open and punchy sound. It effectively controls your audio while maintaining stability and power in your mix. PSP auralComp will give you juicy control over all the essential linking, threshold and gain reduction on any number of channels on top of that it will give you back what you have been missing all along since you moved from Stereo to Immersive mixing.

Intuitively and gracefully laid out, the PSP auralComp has quickly become my Immersive compressor of choice. It's flexible and feature full but at its core, it just sounds great!

Not often a product comes out that is so obviously necessary and beautifully executed. The PSP auralComp is one of those. Until I tried it I didn't know I needed it!

PSP auralComp can give you endless creative possibilities for dynamic control, but at it's core PSP auralComp is a highly musical and beautiful sounding compressor that will end up on many many mixes!

PSP auralComp is so much more than a multi-channel compressor. This is a creative dynamics shaping tool. Unbelievable how well this is thought out. The SC Submix controls and sets alone make this an invaluable must have tool in any multi channel music production. I really love this and can see myself using it not only on stems but also creatively on individual tracks as well.

I use PSP auralComp on my 7.1.2 busses, which gives the ability to not let the LFE trigger the compressor on the ceiling... or not let it trigger as much. Since the side chain submix is automatable, I have the control to reduce how much any given channel is keying the compressor.

We all know routing audio for dynamics control in a multi-channel environment can be a huge nightmare. PSP auralComp gives me a way to treat my surround field in a way that I haven't been able to do easily before with a compressor. The PSP auralComp brings such a unique vibe and character into mixes that I've been using them on all channel formats ranging from mono to quad all the way up to Spatial 7.1.4

PSP auralComp is the plug-in I have been missing. I'm able to use it as a clean multichannel compressor and also as a more musical and driven compressor with the brickwall drive and different summing modes. The ability to group channels and submix is a game changer for multi channel mixing!

PSP auralComp has become my preferred Atmos compressor/limiter as it speeds up my workflow. I put them on all my beds and objects as the final gate keeper on all my mixes. While originally designed for Immersive processing, it also works effectively as a traditional stereo mixing tool. The side chain options are specifically tailored for immersive processing, but it opens up numerous creative possibilities which I am still experimenting with. Considering the limited options for immersive plugins, I strongly recommend PSP auralComp as a valuable addition to any toolkit.

I am slamming PSP auralComp and sounds great! Creamy and open sounding. It seems like it is very light on CPU as well. This is genius! Even for Stereo Mid-Side processing .
Ronald Prent
Ronald Prent has spent over 40 years as a recording and mixing engineer. He specializes in surround and immersive sound, and continues to play a key role in the development of new technologies in multichannel and high-resolution audio. His client list includes Simple Minds, Rammstein, The Scorpions, Mink DeVille, Richie Hawtin, Udo Lindenberg, Peter Maffay, and Tina Turner.
Adam Taborowski
Adam Taborowski is an electronics engineer specialized in acoustics and sound engineering, with a history in software development and music. He started programming simple video games at the age of 12. When he was 13 he formed his first rock band with friends from school. In PSPaudioware he found an outlet for both passions, music and software development. His other hobbies include: researching vikings, knights, cowboys, cats and other areas of interest.
12 minute video tutorial by Alex Solano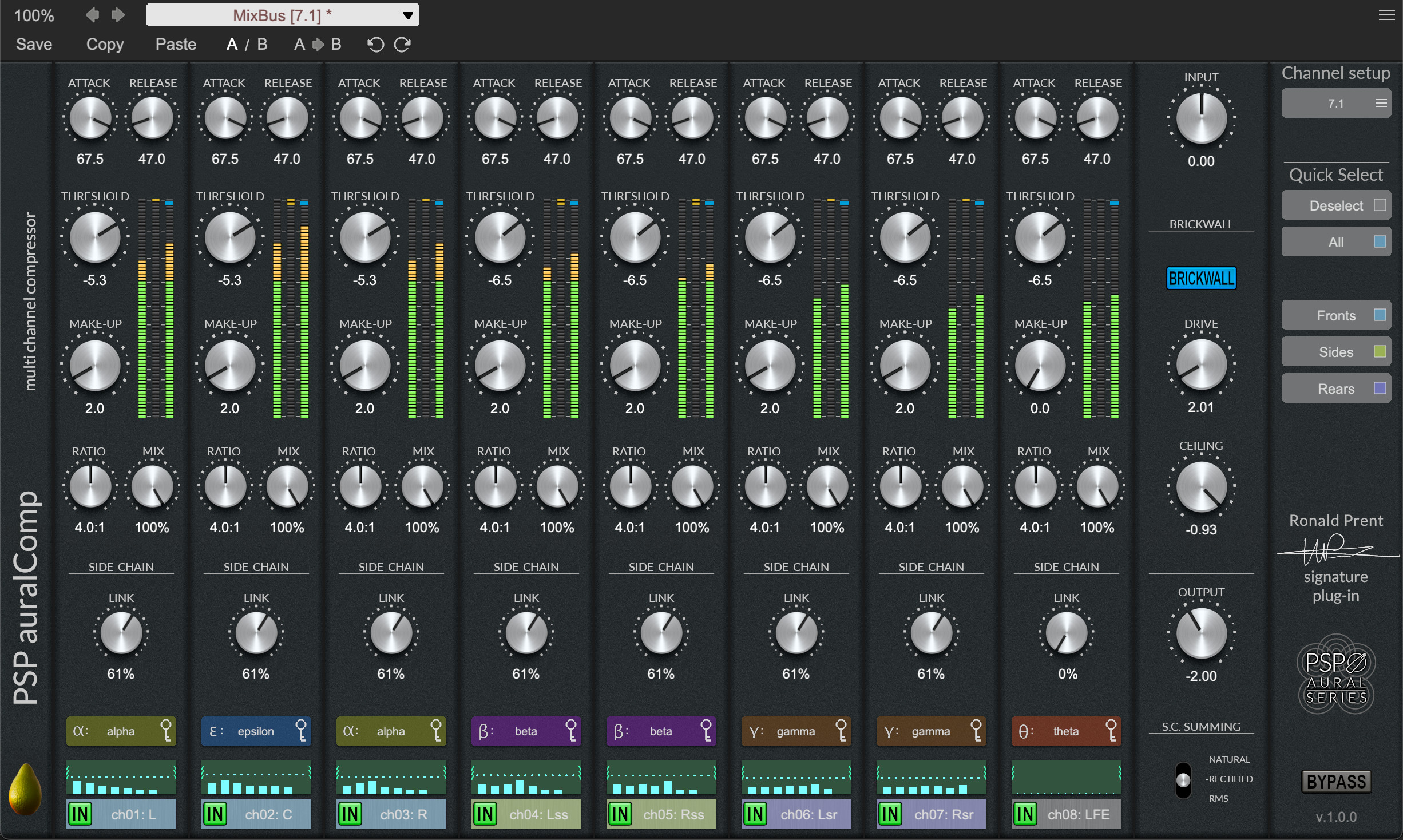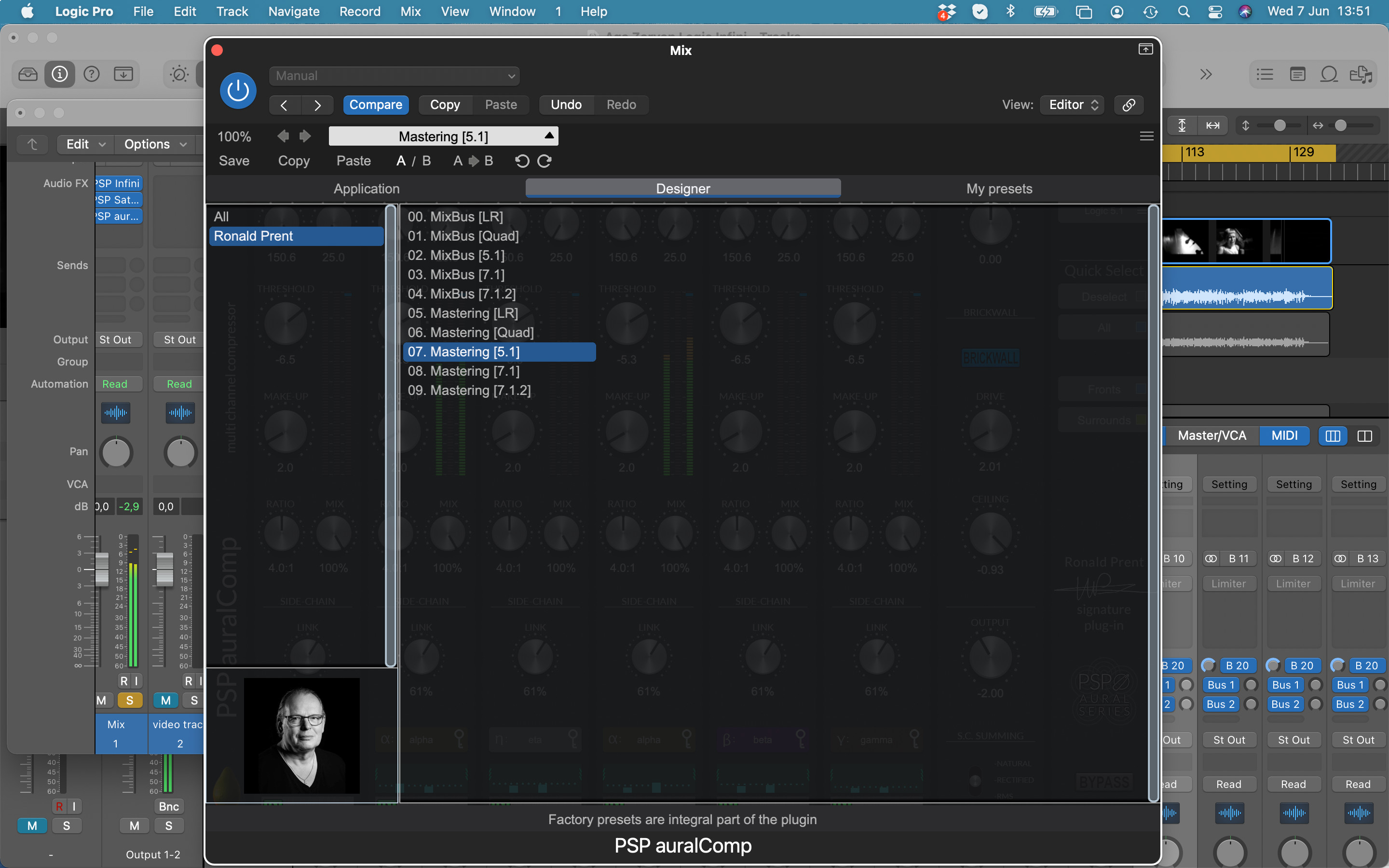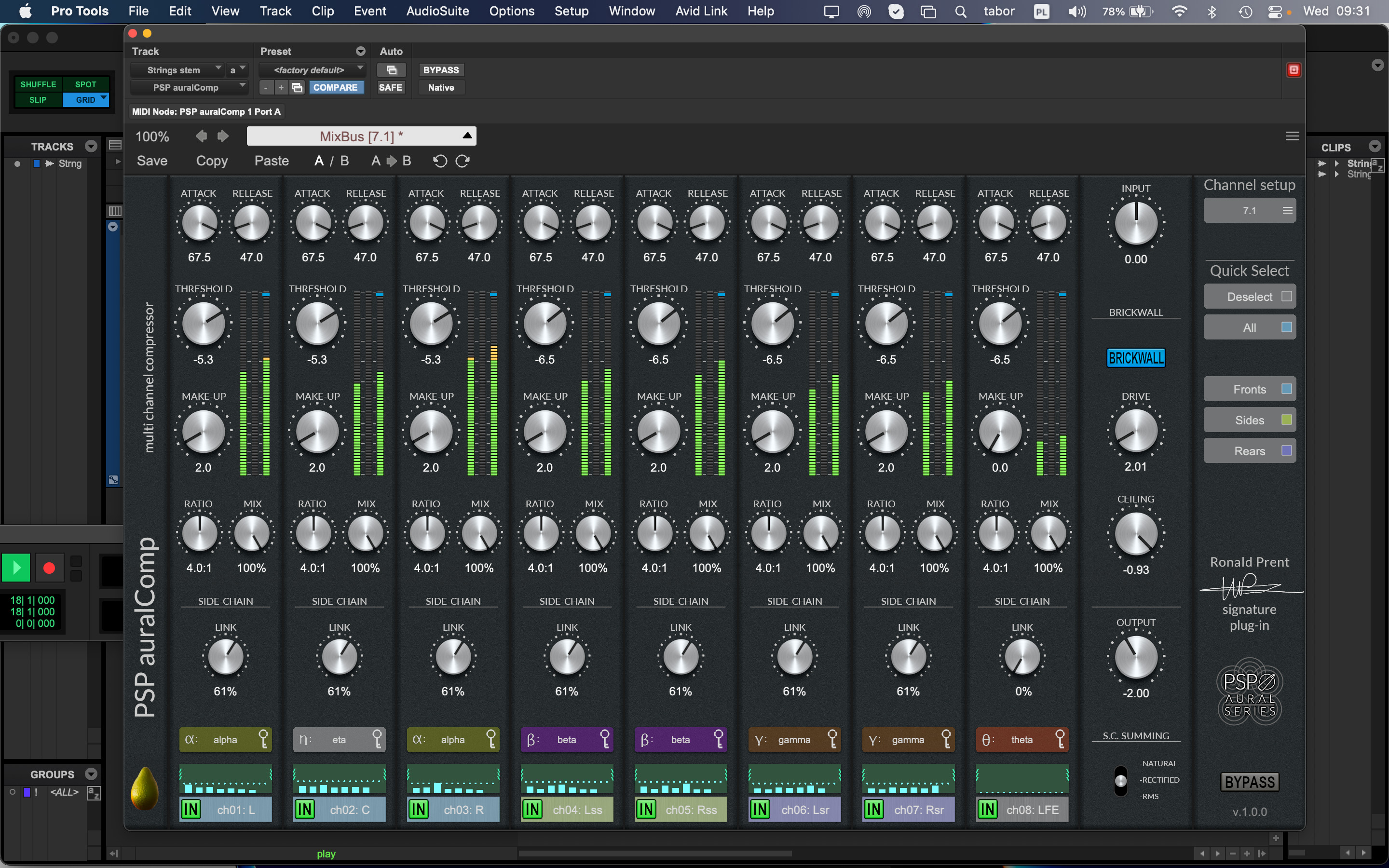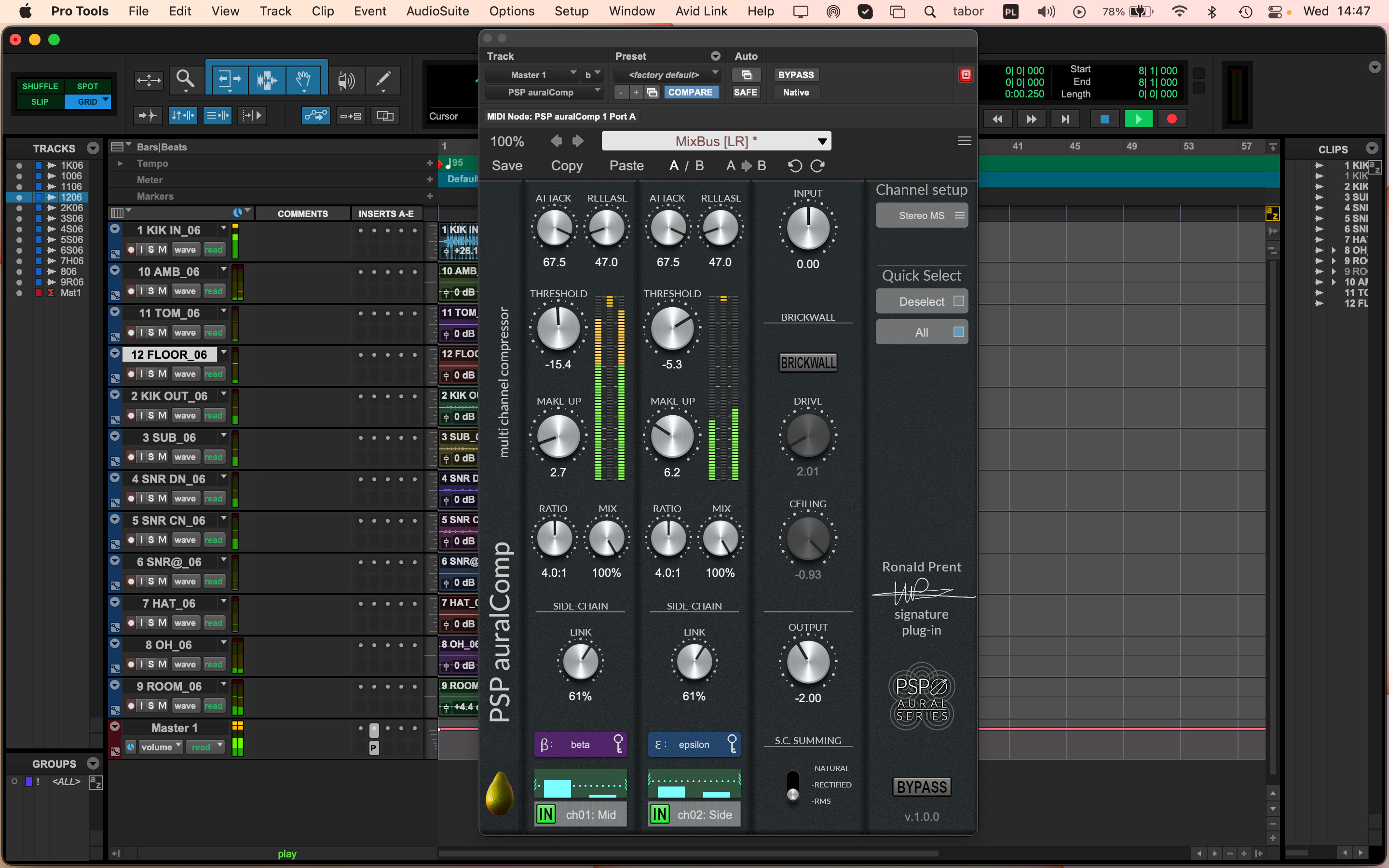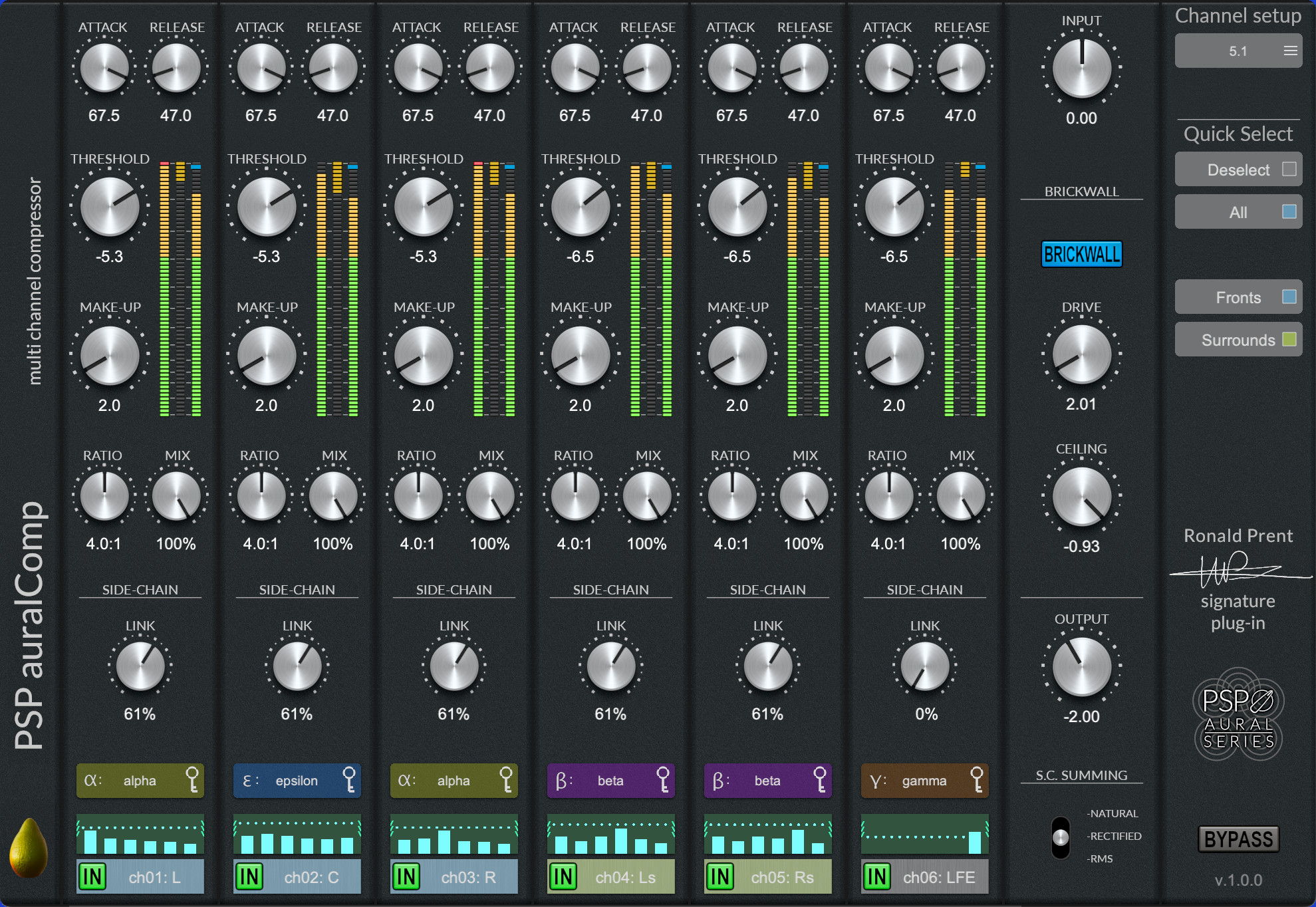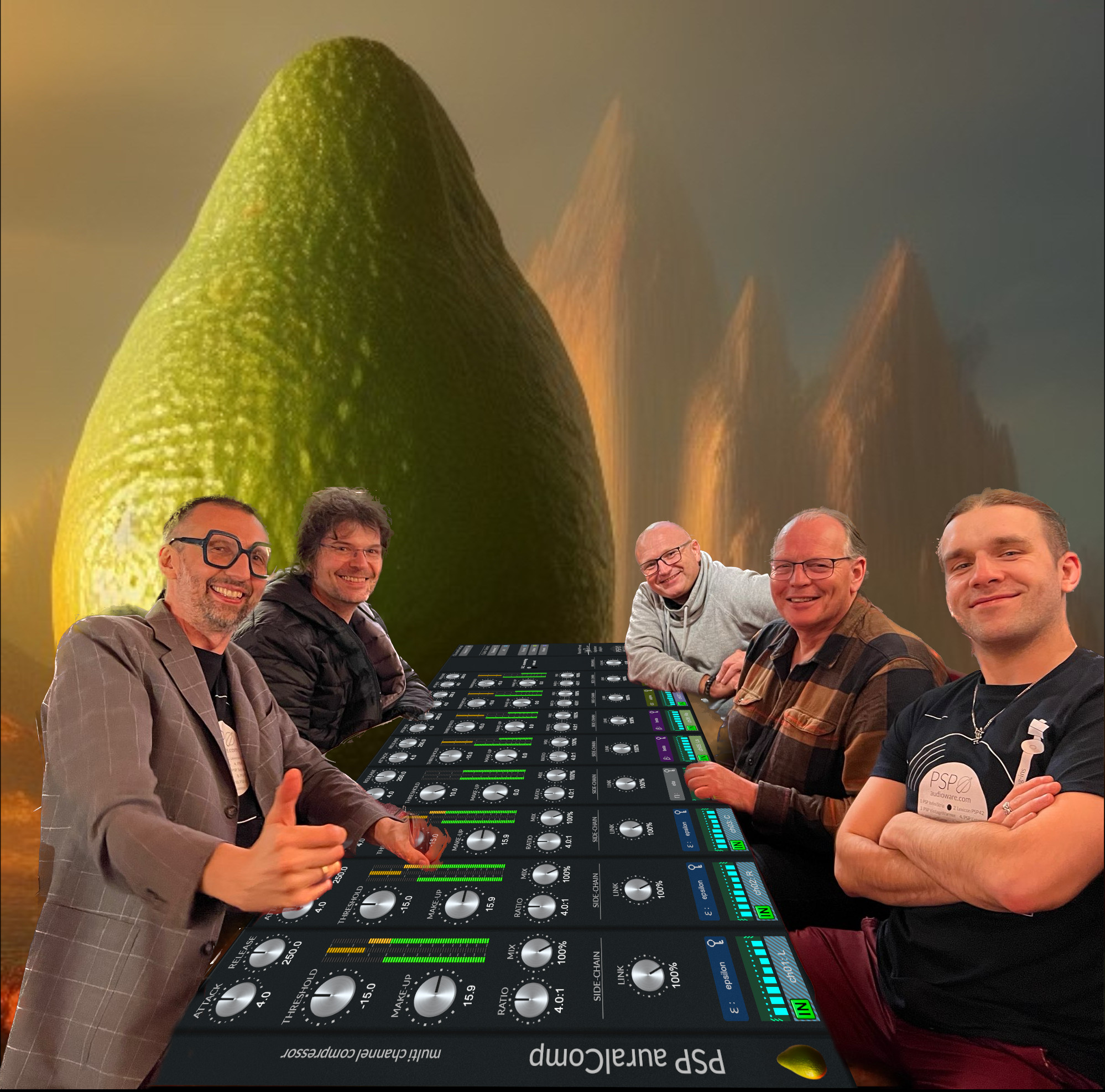 Concept & Specification: Ronald Prent
Design and coding: Adam Taborowski
Platform development: Adam Taborowski
Audio algorithms: Mateusz Woźniak & Adam Taborowski
Graphics: Adam Taborowski & Mateusz Woźniak
Installers: Piotr Dmuchowski
Product Manager: Antoni Ożyński
Manual: Adam Taborowski & Mike Metlay & Antoni Ożynski
In order to run PSP auralComp in 30-day trial mode or activate it, you need an iLok user ID which you can create for free at www.ilok.com, and you need to install the free iLok License Manager application but you don't need any hardware dongle.
You can activate the license in 3 separate locations, each of which can be either a computer or an iLok dongle (2nd generation or above). You can move these licenses at any time using PACE's iLok License Manager software.
PC
VST3
Windows 7 – Windows 11

64-bit VST3 compatible application
AAX
Windows 7 – Windows 11

Pro Tools
All DAWs
The latest iLok License Manager application installed 
macOS Intel or macOS Silicon
AudioUnit
macOS 10.12 – macOS 13 Ventura

64-bit AudioUnit compatible host application
VST3
macOS 10.12 – macOS 13 Ventura

64-bit VST3 compatible host application
AAX
macOS 10.12 – macOS 13 Ventura

Pro Tools
All DAWs
Up to date iLok License Manager application installed
VST and VST3 are trademarks and software of Steinberg Media Technologies GmbH. AAX and Pro Tools are trademarks or registered trademarks of Avid Technology, Inc. AudioUnit, OSX and macOS and macOS Silicon are trademarks of Apple Inc. iLok is a trademark of PACE Anti-Piracy, Inc.