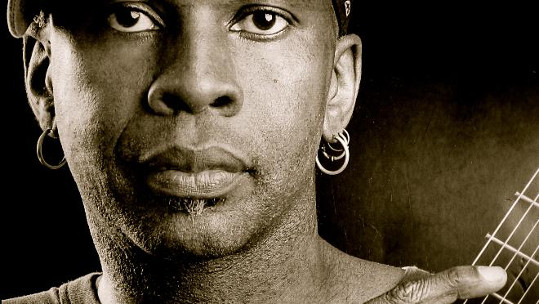 Vernon Reid
English-born American guitarist, songwriter, composer, bandleader, and photographer Vernon Reid is best known as the founder and primary songwriter of the rock band Living Colour, Reid was named No. 66 on Rolling Stone magazine's 2004 list of the 100 Greatest Guitarists of All Time.
In addition to his work with Living Colour, Reid has been engaged in a number of other projects. He released Mistaken Identity, his first solo album, in 1996 and has collaborated with the choreographers Bill T. Jones on Still/Here and Donald Byrd on Jazztrain. He performed "Party 'Til The End of Time" at the Brooklyn Academy of Music (BAM) with The Roots, an end of the 2000 millennium tribute featuring the music of Prince's album 1999. He also composed and performed "Bring Your Beats" a children's program for BAM.
Reid has also undertaken significant work as a record producer, including two Grammy-nominated albums: Papa (1999) by the African vocalist Salif Keita and Memphis Blood: The Sun Sessions (2001) by guitarist James Blood Ulmer. Ulmer's subsequent albums, No Escape from the Blues: The Electric Lady Sessions (2003), Birthright (2005), and Bad Blood in the City: The Piety Street Sessions (2007), were also produced by Reid.
Reid and DJ Logic, calling themselves "Yohimbe Brothers", released an album in September 2002 entitled Front End Lifter. The Yohimbe Brothers have been touring on and off since the release of the album. Reid was also the music supervisor for the film Mr. 3000, starring Bernie Mac and directed by Charles Stone III; the film was released in September 2004. Vernon's album with Masque (Leon Gruenbaum – keyboards & samchillian tip tip tip cheeepeeeee, Hank Schroy – bass and Marlon Browden – drums), an instrumental album entitled Known Unknown, was released in April 2004, and on 18 April 2006 Vernon Reid and Masque released Other True Self, both on Favored Nations records, owned by Steve Vai.
Favorite PSP plug-ins:
PSP Nexcellence is a transparent, clean, next level professional reverb plugin with remarkably low CPU usage. PSP has done it again! Fantastic!
More about Vernon: