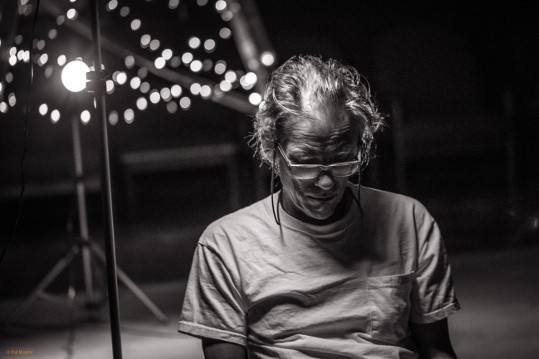 Tchad Blake
Tchad Blake has worked with numerous artists and musicians, including Arctic Monkeys, State Radio, Pell Mell,  Elvis Costello, Peter Gabriel, John Moreland, Vanessa Paradis, Pearl Jam, Tom Waits, Richard Thompson,Gerard Way, Sheryl Crow,  T-Bone Burnett, Travis, Marike Jager, Crowded House, Finn Brothers, Liam Finn, The Pretenders, Bernard Fanning, Los Lobos, The Bad Plus, Sam Phillips, Thomas Dybdal, Joseph Arthur, Fion Regan, Suzanne Vega, Ani DiFranco, The Bangles, Stina Nordenstam,  Bonnie Raitt, Lisa Germano, Nikki Lane, Paulo Nutini, Fishbone, Al Green, Tracy Chapman, Andrew Bird, Eno, Phantom Planet, Gomez, The Dandy Warhols, , Paul Mcartney, American Music Club,  Blitzen Trapper, Cibo Matto,  David Rhodes, The Black Keys, Nico Vega, Soul Coughing, Delta Spirit,  Clarance Bucaro, Charlie Mars, The Van Jets,  RZA, Nive Nielsen, Mutemath, Max Gomez, Living In Question, Justin Townes Earle, Luella And The Suns, Aṣa, Nina Violet, Tracy Bonham, The Kills, Triggerfinger, Little Fish, Blackroc, Gary Myrick, The Figures and Paul Kelly, Robert Plant among others.
Blake is noted for creating original and at times awkward sonic textures (usually with unorthodox gear), constantly shifting mixes, and use of binaural recording.
Blake has won a number of Grammy Awards, beginning with Best Engineered Album, Non-Classical and Best Rock Album for Sheryl Crow's The Globe Sessions (1998). He won another Grammy for Best Engineered Album, Non-Classical for his work on Suzanne Vega's Beauty & Crime (2007). Blake won two Grammys for his work with The Black Keys on 2010's Brothers.
Favorite PSP plug-ins:
PSP SpringBox: "wonderfuly intricate textures."
PSP ClassicQ: "incredibly musical mids and highs."
PSP L'otary2: "ultimate control of your spinny speaker."
More about Tchad:
www.mongrell.com
www.mixwiththemasters.com/blake
www.allmusic.com/artist/tchad-blake-mn0000017254/credits