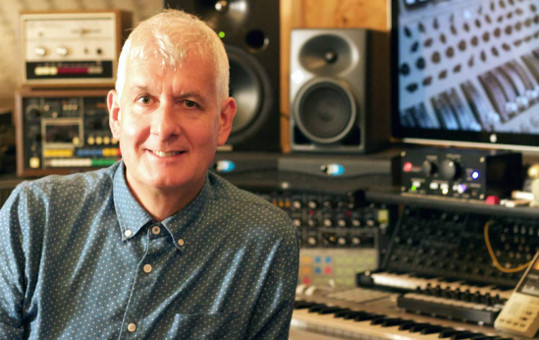 Steve Levine
Starting as a tape-op at CBS studios in 1975, Steve progressed to in-house engineer and worked with many new wave, punk & pop acts including The Clash, The Jags, The Vibrators, XTC & Sailor.
Beach Boy Bruce Johnson was to play an important part in Steve's early career, culminating with Steve producing an album for the Beach Boys several years later.
Steve produced all of Culture Club's classic hits and the bands' three multi-platinum albums.
Artist collaborations include Honeyz, China Crisis, Gary Moore, Ziggy Marley, Louise, The Creatures, The Angelic Upstarts, Lemmy & Motorhead, David Grant, Jimmy The Hoover, Westworld, Sigue Sigue Sputnik, Mis-teeq, 911.
Steve has collected a number of prestigious industry awards including a Brit Award, Musicweek Award and a Grammy for his work with Deniece Williams.
He has appeared on many radio and TV programs, is a regular guest presenter of the newspaper review on BBC weekend Breakfast and on BBC6 Music with his own show.
His radio production company produces original high quality radio content, in particular, SONY Radio Award winning The Record Producers, a series for BBC Radio 2 and BBC6 Music. Most recently 2 Gold Awards at the New York Radio Festival and a BBC World Service "In The Studio" series with Patrick Woodroffe around 'The Last Domino? Tour' with Genesis including personal contributions from Genesis founder members Mike Rutherford and Tony Banks.
He has also presented The Record Producers Live Editions with special guests, including Legendary Motown producer Lamont Dozier, and a walking Audio Tour for Mary Wilson at the V&A.
Steve produced the Vapors new album, the first new material from the band for 40 years. The lead single reached number 1 in the UK Heritage chart for 2 weeks and the album entered the main chart on its release. The album has been critically acclaimed and continues to sell well with the fans.
Other productions include XamVolo , Space, electronic project Pretty Robotic and a remix album for the legendary Soul & R&B singer Millie Jackson entitled "Exposed" for ACE records.
Along with games producer MILKY TEA, Steve has created the soundtrack to a video game HYPERBRAWL. The game is available on Apple Arcade and all major gaming consoles and platforms and the OST version of the game soundtrack music released by SONY MUSIC.
Recent projects include recording Liverpool band HUSHTONES debut album due for release this Summer, tracks have been featured on BBC Introducing, Radio 1 and BBC6 Music.
Steve was recently commissioned by BBC World Service to produce the music for U.Me the Musical, expressly to draw attention to the current plight of the theatre world in the midst of the current pandemic. All written, rehearsed and recorded under COVID restrictions, quite a challenge!
Steve is a Director of PRS for music and a LIPA Companion
"I've been a fan of PSP plug-ins almost from day one, which is now nearly 17 years. I was thrilled and honoured when I finally met the VERY tall Antoni in person  at a trade show, his passion for audio and DSP plug ins is apparent from the second you meet him. Every time a new plug in is released it gives me hours of creative pleasure. AND whenever I use something like "PSP VintageWarmer" the artists say …."what was that you just did" …almost anything sounds better with it  …and the recent  PSP FETpressor has the same effect on drums and vocals. The new spring reverb is destined to be a new classic along with some of many other great plug-ins they make."
More about Steve: