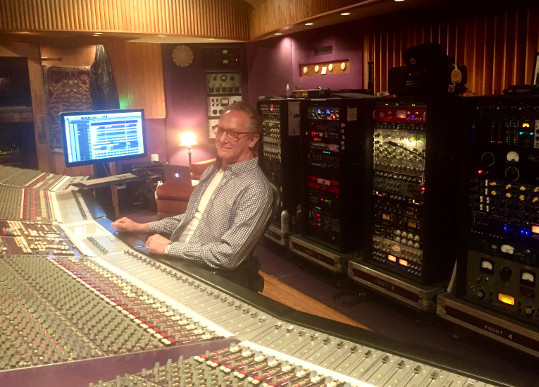 Michael Brauer
Michael Brauer's career began at MediaSound Studios in New York City in 1976. He worked his way up from the Shipping Department to staff engineer by 1978. The staff engineers that he assisted were all the hottest guys in town including; Bob Clearmountain, Mike Barbiero, Ron St. Germain,Michael DeLugg, Ed Stasium, Godfrey Diamond, Tony Bongiovi and Harvey Goldberg. 
Soon Michael was asked to record and mix two songs with singer Luther Vandross for an R&B record called Change. Afterward, Luther approached him to record his upcoming solo album Never too Much, which went on to become a Gold Record. He became Luther's engineer and recorded all his music for the next four years including two Aretha Franklin albums. 

In 1984 he flew over to London where the music scene was exploding. I met some A&R people that were willing to give me a shot at production and remixing. Michael soon became in demand and worked for all the major London labels until 1990 when I decided to focus on the American scene.
He went on to mix such records as the Stones' "Steelwheels", New Radicals, and Tony Bennett's Grammy® Album of the Year "Unplugged." He's received 7 Grammys® including ColdPlay's Alternative Album of the Year "Parachutes," John Mayer's Best Pop Vocal Album, "Continuum," ColdPlay's Best Rock Album, "Viva la Vida," John Mayer - Best Engineer in Non-Classical, Battle Studies, Calle 13's Best Latin Rock Urban or Alternative album for "Multi Viral" along with a Latin Grammy for Calle 13 Best Urban Album and Angelique Kidjo, Best World Music Album for "Eve."
Favorite PSP plug-ins:
"The new PSP FETpressor plug-in is ridiculously good on vocals. I've had a couple situations where the vocal level was unruly jumping around all over the place and simply tweaking the threshold on the default setting gave me a controlled vocal without the crushed sound one might have gotten with an 1176. You can crush it and yet it still remains warm and fairly transparent.  I don't think there's another plugin out there that does the job quite like the PSP FETpressor. I'm really impressed with this one."
"I love the new PSP PreQursor2 Eq plug-in. You can use it on pretty much any instrument and has a very warm wide band EQ that is great on piano and drums. I like that you can have the choice of selecting a side for eq."
"The PSP 2445 EMT is an exceptional reverb plugin. I remember seeing the original in all the mastering rooms. It was a really high quality verb that few could afford. The depth and natural decay of the PSP 2445 plugin is impressive. They matched perfectly the original and actually I think they improved it. It's no surprise, I love so many of their other plugins"
More about Michael: