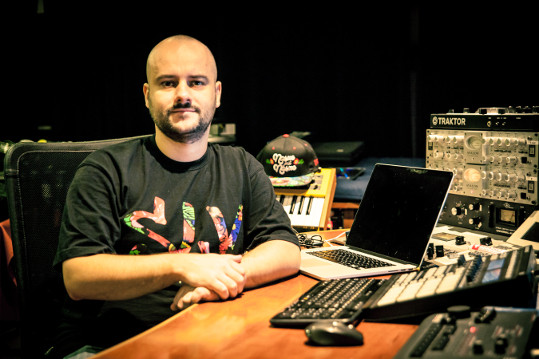 Jarosław JARO Baran
Jarosław JARO Baran is a pop music producer and sound engineer from Kraków. JARO is best known for working with artists such as Donatan, Cleo, Edyta Górniak, Renata Przemyk, Ewelina Lisowska, Natalia Szroeder and many others. He's the main music producer and mixing engineer at Gorycki & Sznyterman Studio in Krakow, Poland.
A huge number of the songs on which he has worked have reached the top of the most popular Polish charts, like Poplista on RMF radio or the Radio ZET chart. He's been involved in the production of two diamond records - Donatan's "Równonoc" LP and Cleo's "Zabiorę nas" single. Moreover, a lot of the songs he has worked on have achieved the status of platinum records. Among those are Ewelina Lisowska "Prosta Sprawa" (double platinum), Cleo "N-O-C" (triple platinum), Donatan & Maryla Rodowicz "Pełnia" (double platinum) and many others. JARO's background is in rock and metal music. He used to be the guitarist and mastermind behind Delight. The band's "Breaking Ground" album was produced by Rhys Fulber, a Canadian producer well known for his involvement in the bands like Front Line Assembly, Delerium or Conjure One. The album was released in 2006 by Roadrunner Records/Metal Mind Productions. Afterwards, JARO was working as an editor for Rhys on projects such as Fear Factory, Paradise Lost or Scar The Martyr. Furthermore, Rhys introduced JARO  to Mike Plotnikoff, with whom he then cooperated as a digital editor on the album of the Swedish band Blindside "With Shivering Hearts We Wait", the first album of Like a Storm "The End of the Beginning" and many others.
Favorite PSP plug-ins:
PSP PianoVerb 2: "I use PSP PianoVerb2 extensively in my productions. It's got this unique dark space which makes it so much different from other standard reverbs. The kind of texture that you get with it, allows me to glue the whole mix. It's handy, especially in times when we use a lot of samples, synthesizers and other programmed pieces. I love it with long, dark and pitched down settings. It creates a low midrange "carpet" on which you can put other, high frequency elements and make a nice contrast for the whole mix."
PSP ConsoleQ, PSP Classic Q: "I always use PSP ClassicQ or PSP ConsoleQ when I need to focus on the mid frequencies of electric guitars, piano and vocals. Every time I feel the track lacks a bit of midrange frequencies I treat it with one of those plug-ins and just turn the knob one or two ticks. The difference is really noticeable and I don't know any other EQ which would give me this clean midrange sound, without making it feel harsh and cheap. I also sometimes use PSP ClassicQ or PSP ConsoleQ to choose the color I like for the track."
More About Jaro: