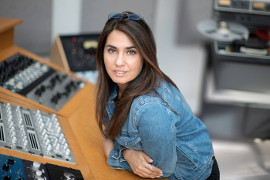 Emily Lazar
Emily B. Lazar is an American Grammy-winning mastering engineer. She is the founder, president, and chief mastering engineer of The Lodge. She combines a decisive old-school style with an intuitive and youthful knowledge of both music and technology. Emily and her team capture the magic that can only be created in the right studio by the right people. Born and raised in New York, Emily attended Skidmore College and graduated with a BA in Creative Writing and Music. After working in a few legendary New York City recording studios, Emily then went on to NYU to earn her Masters Degree in Music Technology. In 1996, she was invited to join the faculty at NYU, teaching graduate level coursework in the Music Technology program. In 1997 Lazar founded The Lodge, a world- renowned mastering, mixing and specialized recording facility located in the heart of NYC's Greenwich Village.
Equipped with state-of-the art equipment and a dedicated team of studio personnel, The Lodge attracts musical luminaries such as: Foo Fighters, Beck, Coldplay, David Bowie, Sia, Garbage, Sonic Youth, Natalie Merchant, Lou Reed, Morrissey, Depeche Mode, Tiësto, Vampire Weekend, Björk, BT, Sonic Youth, Jeff Buckley, Third Eye Blind, Haim, Wu Tang Clan, Beyoncé, Rostam, Say Anything, All American Rejects, The Shins, Brand New, Vanessa Carlton, Destiny's Child, Santana, Julian Casablancas and The Voidz, The Walkmen, The Prodigy, Sinéad O'Connor, Alanis Morrisette, Angel Olsen, Margaret Glaspy and many more. Her mastering work can also be heard on original soundtracks for many feature films: This Is The End, (Dave Grohl's) Sound City: Real to Reel, Get Him to The Greek, Hedwig and the Angry Inch Original Cast Album, The Punisher, Training Day, American Psycho, Lucky Number Slevin, Pokemon: The First Movie and Boys Don't Cry. She also mastered the broadcast audio for NBC's Saturday Night Live: 25th Anniversary Special, as well as soundtracks for hit TV series Heroes (NBC), and Six Feet Under (HBO).
In 2019, Emily became the first female mastering engineer to win the Best Engineered Album (Non-Classical) Grammy, which she won for her work on Beck's Colors. She was also the first female mastering engineer to be nominated for a Grammy in the Album of the Year category for the Foo Fighters album "Wasting Light" in the 54th annual Grammy Awards. Emily was also the first female mastering engineer to be nominated for a Grammy in the Record of the Year category at the 57th Annual Grammy Awards for Sia's smash hit "Chandelier." Again, at the 58th Annual Grammy Awards, Emily blazed yet another trail for aspiring female engineers everywhere by earning the first female mastering engineer nomination for a Grammy in the Best Engineered Album Non-Classical category for Bird and the Bee's (Greg Kurstin and Inara George) "Recreational Love." Emily and The Lodge were also nominated and won for Best Album Production at the 28th Annual TEC Awards, for Foo Fighters "Wasting Light," and won again at the 31st TEC Awards for Best Single Production for Beck "Dreams." At the 32nd TEC Awards, Emily and The Lodge were nominated for two TEC Outstanding Creative Achievement Awards: Best Album Production for Coldplay's "A Head Full of Dreams" and Best Single Production for Garbage's "Empty.
More about Emily:
www.facebook.com/lodgemastering/
www.en.wikipedia.org/wiki/Emily_Lazar