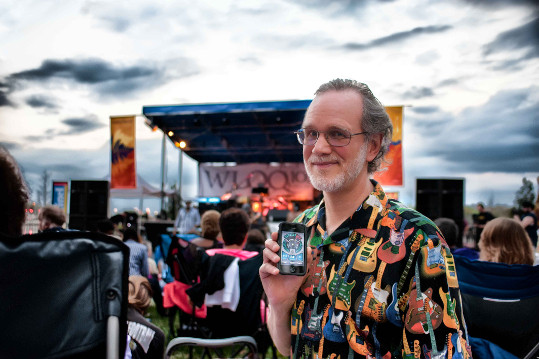 Bob Katz
Beginning by playing the B flat clarinet at the young age of ten, Bob Katz has become one of the the most respected and in-demand mastering engineers working today. In 1989 he built the first working model of the DBX/UltraAnalog 128x oversampling A/D converter, and produced the world's first oversampled commercial recordings. He's written two books, Mastering Audio: The Art and the Science, now in its third edition, and iTunes Music: Mastering High Resolution Audio Delivery.
Every day, Bob applies his specialized techniques to bring the exciting sound qualities of live music to every form recorded today. In 1990 he founded Digital Domain, which masters music from pop, rock, and rap to audiophile classical. In 1996, Bob and Mary moved the company from New York to Orlando, adding numerous Florida-based artists and labels to the international clientele. Bob masters in Studio A and supervises/produces mixes which are made in Studio B.
A sampling of some of the great artists Bob is privileged to have recorded and/or mastered include: Afro- Cuban All Stars, Monty Alexander, Carl Allen, Jay Anderson, Lenny Andrade, Michael Andrew, Lucecita Benitez, Berkshire String Quartet, Gordon Bok, Luis Bonfa, Boys of the Lough, Bill Bruford, Ron Carter, Cyrus Chestnut, George Coleman, Larry Coryell, Eddie Daniels, Los Dan Den, Dave Dobbyn, Paquito D'Rivera, Arturo Delmoni, Garry Dial, Dr. John, Toulouse Engelhardt, Robin Eubanks, George Faber, John Faddis, David Finck, Tommy Flanagan, Foghat, Fox Family, Johnny Frigo, Ian Gillan, Dizzy Gillespie, Whoopi Goldberg, Bill Goodwin, Arlo Guthrie, Steve Hackett, Lionel Hampton, Emmy Lou Harris, Tom Harrell, Hartford Symphony, Jimmy Heath, Vincent Herring, Conrad Herwig, Jon Hicks, Billy Higgins, Milt Hinton, Fred Hirsch, Freddie Hubbard, David Hykes Harmonic Choir, Dick Hyman, Ahmad Jamal, Antonio Carlos Jobim, Clifford Jordan, Sara K., Connie Kay, Kentucky Colonels, Lee Konitz, Peggy Lee, Chuck Loeb, Joe Lovano, Patti Lupone, Gunnar Madsen, Jimmy Madison, Taj Mahal, Sean Malone, Manhattan String Quartet, Herbie Mann, Michael Manring, Marley's Ghost, Winton Marsalis, Dave McKenna, Jackie McLean, Jim McNeely, Milladoiro, Mississippi Charles Bevels, Max Morath, Paul Motian, New England Conservatory Ragtime Ensemble, New York Renaissance Band, Gene Parsons, Gram Parsons, Danilo Perez, Itzhak Perlman, Billy Peterson, Ricky Peterson, Bucky Pizzarelli, John Pizzarelli, Chris Potter, Kenny Rankin, Mike Renzi, Rincon Ramblers, Sam Rivers, Red Rodney, Rodrigo Romani, Phil Rosenthal, Mongo Santamaria, Horace Silver, Lew Soloff, George 'Harmonica' Smith, Janos Starker, Olga Tañon, Livingston Taylor, Clark Terry, Thad Jones/Mel Lewis Big Band, Steve Turre, Stanley Turrentine, McCoy Tyner, Jay Ungar, U.S. Coast Guard Band, U.S. Marine Band, Amadito Valdez, Kenny Washington, Peter Washington, Doc Watson and Son, Clarence White, Widespread Jazz Orchestra, Robert Pete Williams, Larry Willis, and Phil Woods.
"PSP oldTimer ME is my go-to classic-sounding compressor for stems in the mastering room. It's the first one I pick --- especially to tweak a vocal if the client's stems need a little bit of vocal control. It's sweet-sounding, pure and clean (even in solid-state mode, which I use most of the time). It's easy to use and controls vocals particularly well without any artifacts or harshness. It can be very gentle, which I like, because mostly I get stems, which ostensibly are complete, ready-to-go mixes, but sometimes the vocal or another instrument needs a little bit of control to help it to mix against the other instruments."
"PSP Xenon is one of the most effective and invisible digital peak limiters I've used for mastering."
More about Bob: